Products

As an important logistics equipment, tank trucks are widely used in automobile transportation industry. Currently, in China, carbon steel tank trucks are mainly used for the transportation of gasoline, diesel, and other oil products, and other powdered materials such as cement and fly ash. However, due to their heavy weight, low-quality utilization coefficient, and high fuel consumption, and is prone to rust, corrode, and pollute the environment. In recent years, with the enhanced global awareness of energy and environmental protection, many governments have called for the lightweight design of special vehicles, and the replacement of carbon steel tank trucks with aluminum alloy tank trucks has become an inevitable trend.
Aluminum alloy materials are featured low density, good electrical conductivity, strong corrosion resistance, good heat dissipation, ease of processing, and sound mechanical properties, which can meet the usage requirements of automobile container materials and are the inevitable choice for the development of lightweight technology. The primary advantage of aluminum alloy tank trucks is the long-term economic benefits they bring. Aluminum alloy tank trucks are lightweight, have larger load capacity, transportation for oil with better quality and fewer impurities, and have anti-static safety. Compared with traditional carbon steel tank trucks, they can maximize the transportation efficiency of users.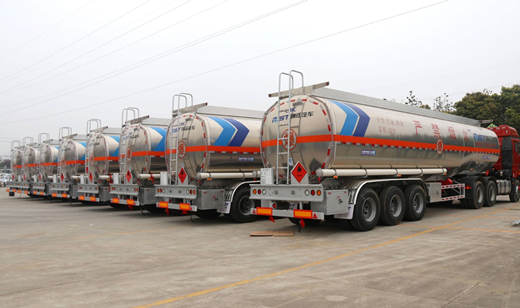 P1 Aluminum alloy tank trucks
Clients
CIMC RUIJIANG is a specialized vehicle manufacturing enterprise located in Wuhu, Anhui, established by CIMC, and is a backbone member enterprise of CIMC Vehicles (Group) Co., Ltd. It has a liquid tank truck production line, mixer truck production line, powder tank truck production line, and other international first-class specialized vehicle production lines; Relying on smart manufacturing in construction, CIMC RUIJIANG is committed to becoming a world-class special vehicle production base and creating the world-class renowned tank truck brand. CIMC RUIJIANG has subsequently acquired multiple national, provincial, and municipal honors such as National High-tech Enterprise, National Torch Plan Enterprise, Auhui Provincial Technology Center, Auhui Provincial Top 100 Enterprises, Anhui Provincial Famous Brand Products, Auhui Provincial Quality Awards, Anhui Provincial Industry-University-Research Demonstration Enterprise, Anhui Provincial Pilot Enterprise for the Integration of Manufacturing and the Internet, and has more than 600 national product patents and multiple professional qualifications such as China Classification Society certification, pressure container license, national torch plan project certificate for aluminum alloy liquid tank truck.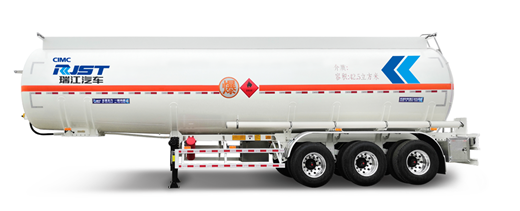 P2 CIMC RUIJIANG Aluminum Tank Truck
On-site Problems
Aluminum tanks are mainly composed of a tube body, head, anti-splash plate, and body top. The used aluminum material is 5083 with a thickness of 3mm~10 mm, mainly joined by butt and fillet joints. The customer has been using conventional pulse welding to weld the longitudinal seam of the tube, circumferential seam connecting the head and tube body, and fillet weld connecting the anti-splash plate and tube body, but have been experiencing the following issues and need to improve:
1)Arc start is prone to have poor fusion, resulting in a large amount of rework and high costs.
2)Arc energy is not concentrated enough, resulting in slow welding speed, large deformation in the workpiece, and difficulty in meeting tolerance requirements.
3)High heat input causes coarse grain size, resulting in a sharp decrease in strength, which cannot meet design requirements and poses a safety hazard.
4)Welding of the internal anti-splash plates is difficult due to the narrow space, and ordinary welding machines are difficult to place, making it extremely difficult for workers to operate.

Recommended Welding Machines and Solutions by Megmeet
Targeting the actual situation of customers, Megmeet recommended the Artsen PM500A machine with a pulse aluminum welding process. Artsen PM500A is a full digital high-frequency smart inverter welding machine that can perform DC and pulse full-position welding for carbon steel, stainless steel, aluminum alloy, and other materials. This machine has the following advantages to address customers' problems:
1)To realize soft arc starting, stable arc crater, and remove deficiency through brand-new control scheme and reasonable technique parameters optimization. Arc starting and arc crater parameters are open and adjustable to ensure the whole welding quality.
2)Optimized aluminum welding pulse technique makes more concentrated electric arc energy, deeper fusion seam, faster welding speed, lower heat input, less spatter, and more consistent formation, and the color of the workpiece is cleanly silvery white.
3)Storing with multiple aluminum welding expert data, which has a wide range of applications. The parameters of each stage of pulse welding are open and adjustable according to the on-site situations to achieve superior welding performances.
4)Wire feeder is digitally displayed, code disk feedback system, dual-drive, ensuring smooth wire feeding and stable arc.
5)Equipped with an intermediate wire feeder and push-pull wire feeding function, with an ultra-long relay length. The intermediate wire feeder has an operation panel, lightweight and compact, and the maximum operating radius of the welding machine is up to 43 meters.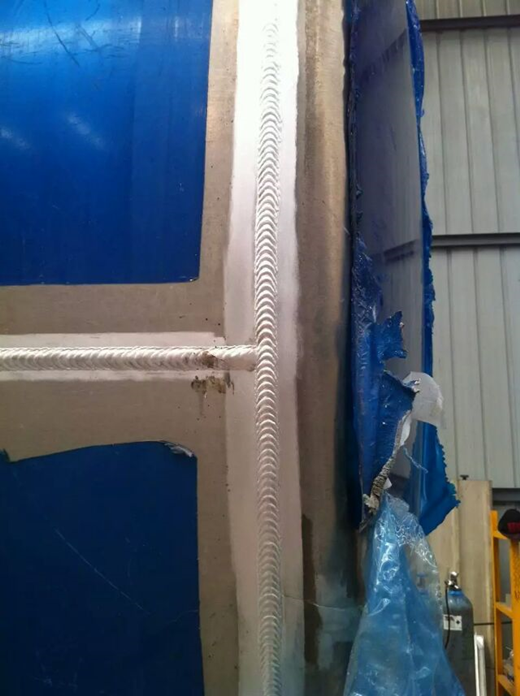 P3 Welding Seam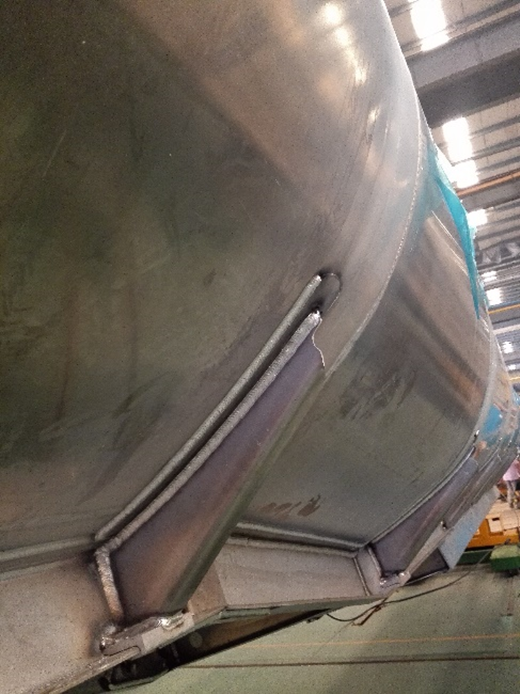 P4 Tube Body Welding
Welding Performance Comparison
Megmeet Artsen PM500A welding machines have achieved good results and the defects of the arc starting and arc crater are basically disappeared. Arc energy is concentrated, welding speed is accelerated, heat input is reduced, and the reduced strength problem of the welding seam is solved. There are no welding surface defects such as gas holes, or undercutting, and weld seam formation is uniform and consistent with clear fish scales. The welding seam color is bright white and the spatter is extremely low, and the workpiece surface has no metal particles spatter. The grinding procedure on the workpiece is reduced. By Megmeet intermediate wire feeder, compact and lightweight, workers can enter the tube body to weld the anti-splash plate easier.

Welding Application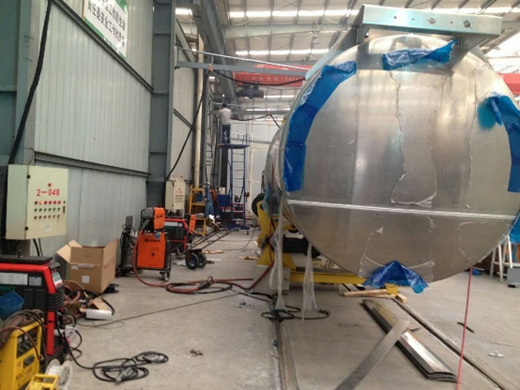 P5 On-site Environment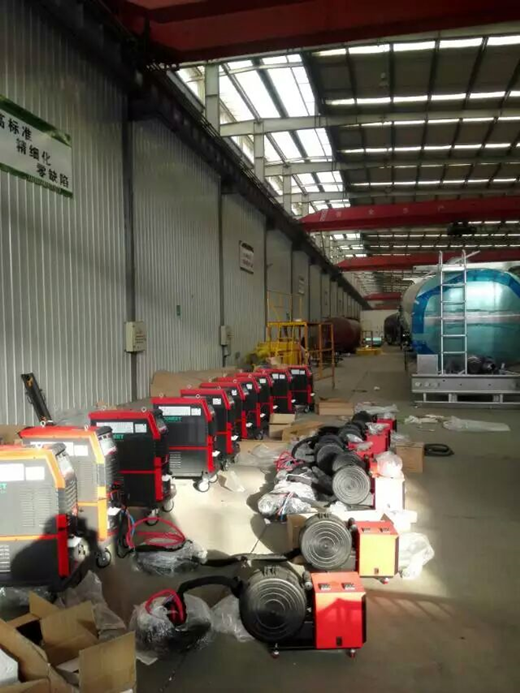 P6 Megmeet Machine Delivered to Site

P7 On-site Welding

P8 Intermediate Wire Feeder Application