Together with TÜV SÜD, Megmeet Welding Technology set up a training and qualification center on robotic welding. Today, the world-famous AWS (America Welding Society) has approved the joint center as a CRAW Testing Center.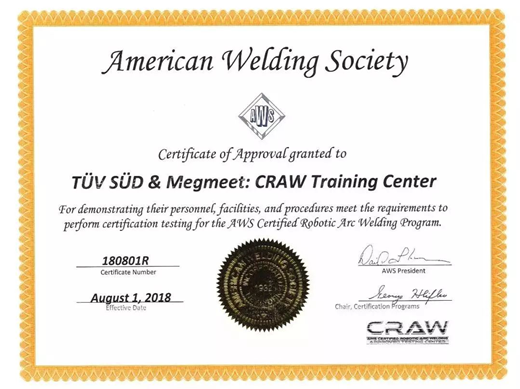 The AWS Certification Program for Robotic Arc Welding - Operators and Technicians (CRAW) allows many welding personnel employed in various welding sectors to measure themselves against standards for their occupation. It also signifies that the CRAW Operator or Technician has demonstrated the capability of working with various codes, standards, and specifications. Since proof of active practice or re-examination is required every three years, certification also signifies that the CRAW Operator or Technician is current with the welding industry.
In the AWS CRAW Approved Testing Centers (ATCs), individuals are prepared thru trainings and operations for certification and administer both practical and written exams.
For the details of CRAW, please visit the following link of AWS.
https://www.aws.org/certification/detail/certified-robotic-arc-welding

In the Megmeet & TÜV SÜD CRAW facilities, trainings and tests will be carried out with robotics welding systems from FANUC, ABB, KUKA and YASKAWA. Moreover, the professional Megmeet team are experienced in welding operation and configurations of robot systems, together with CWI experts.